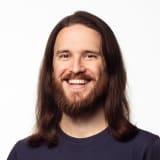 Felix
Inspired by the versat­ility and access­ibility of the Web, Felix is always on the lookout for new challenges. His specialties are Web, hybrid and mobile apps as well as business software. Owing to his experience in the startup scene he is not afraid to take on projects by himself and knows his way around pretty much every topic in a Web project.
Lara
Due to her long-standing role as a Design Systems Engineer, Lara has a keen eye for detail and knows the inter­sections between creative processes and technical imple­mentation. Her mission to make the Web a better place drives her to develop websites and apps with supreme user experience and to prove her know­ledge in her teaching and consulting work.
From mobile to desktop. From 10 to 10,000 users.
At scale the name says it all.
what we do.
We build user interfaces that go way beyond the surface.
During the whole develop­ment process the user is central for us. They are closely followed by flawless performance. The result: A user interface that helps to solve problems without being in the way.
As experts in scalable cloud solu­tions we plan your product from the begin­ning to be flexible in the long run. Due to future-proof develop­ment, tech­nical debt is a thing of the past.
We take your product idea to cloud 9. Or cloud 90. Or cloud 9,000.
We speak your language. And that of your browsers, devices and server farms.
We offer our con­sulting and developing services indi­vidually or as a flexible extension to your team. Moreover, you can trust our ver­satile network of experts.